Modern vacuum cleaners are equipped with two air filters: One protects the appliance's motor by filtering the air that is sucked in, and the other protects the user's lungs by preventing fine dust particles from exiting the exhaust.
These filters need to be replaced regularly, but much less frequently than dust bags. Manufacturers that sell filters and dust bags separately, place the burden of keeping track of these replacements on the user.
At least Miele makes their customers' lives a bit easier by bundling filters with dust bags into one retail box. The box contains four dust bags and one each of the two filter types.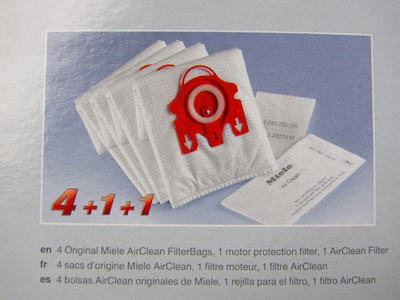 The manual for Miele's vacuums states:
An [exhaust] filter is supplied with every box of Miele dust bags. It should be replaced each time a new box of bags is started.
A similar statement addresses the motor filter.
Make sure one box is completely empty before you start the next
There is one flaw in this design, though.
Judging from the bundle, each filter should be good for use with four dust bags. By following Miele's instructions of replacing the filters when you start a new box of dust bags, however, you would throw out the two factory-installed filters in a brand-new vacuum after filling just the one pre-installed dust bag.
The fix? Don't replace the filters when you start a new box of dust bags, but when you finish it.