In my last blog post, "In Search of Missing Airline Reward Miles," I had taken a closer look at how to claim uncredited miles via an airline's website. Objects under test were Lufthansa's Miles & More and British Airways' Executive Club programs.
Since then, I have signed up for another loyalty program, called EarlyReturns, and offered by Denver-based Frontier Airlines. Before signing up, I had already flown with Frontier a few times. Using the boarding stubs from these flights, I had the opportunity to see how Frontier's process for claiming uncredited miles stacks up against BA's and Lufthansa's.
Finding the claim form
The login form for the the Frontier Airlines website is located at the top edge of the site's home page. Once the login process is completed, your name and a list of four links appear in the login form's place. All four links are relevant to your user account: Redeem Miles, My Reservations, Account Activity, and Sign Out.

During my testing of the Lufthansa and BA websites, I had assumed that what I was looking for — namely some link or help related to claiming uncredited miles — would be located on the account statement page. So, I clicked on Account Activity.
At first sight, the Account Activity page looks a bit cluttered, which is mainly due to the fact that four separate navigation menus are spread around the page.
The Account Activity Summary section, however, provides a concise overview over your EarlyReturns membership level1, the date of last activity, your current milage balance, and — placed prominently right beneath the balance — there is the line: "Missing Miles? > Contact us".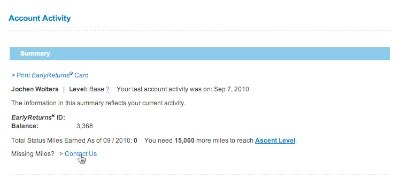 Although the wording is extremely concise, it is instantly understandable what "Missing Miles? > Contact us" means, and the link is located just where you would most expect and need it. What's more, even on monitors with an 800×600 resolution, that line is above the fold and, thus, within direct view.
Submitting the flight details
What you see when you click the "Contact Us" link comes as a bit of a surprise: instead of a form for entering flight details, the page contains Frontier's phone number, and their postal and email addresses2.

On the one hand, it is a nice touch that Frontier offers humans as first-level customer support contacts instead of requiring its passengers to tediously enter flight details into a more or less well-designed form.
On the other hand, though, the contact page does not state what information Frontier requires to process a mileage claim. Is the ticket number sufficient, or do I have to include more details like the route, date, etc.?
Getting help
The website's EarlyReturns FAQs help pages provide more information on this. A link to a page with these FAQs is found in the lower right-hand corner of the Contact Us page.
Among the questions is one that is titled "Can I get credit for a previous flight if I am a new or existing EarlyReturns® member?" The answer to this question clearly explains how you can claim missing miles: mail in the ticket stubs or send them an email with your membership number and the "13 digit e-ticket number starting with '422'."

Admittedly, the FAQ page for the EarlyReturns program is very long, so it will take a while to find this specific question. But with a bit of patience, finding the required information is simple, because the link to the FAQ page is in a prominent place; the relevant question is properly phrased; and the help text is concise, to the point, free of distracting marketing babble, and it contains exactly what you need to know.
And yet, this information would be even more useful if it were placed directly on the EarlyReturns contact page, so you would not have to go hunting for it in the first place.
Receiving my mileage credit
It took Frontier less than an hour to reply to my email in which I had sent them the details of my flights. In their reply, they promised that the "new balance will be reflected online in 24 to 48 hours." The miles showed up in my account within little less than a day.
Kudos to Frontier for handling this process so much more customer-friendly than (at least) one of their major, global-carrier competitors!
---
There are three membership levels in the EarlyReturns program, and their names are "Base," "Ascent," and "Summit." I love it how Frontier applies its Rocky Mountains marketing theme even to these kinds of details. ↩

It certainly does boggle the mind that this email address is not a clickable link. ↩