Hot beverages like coffee and tea usually taste better when you prepare them with filtered water. To that end, some coffee machines can be equipped with water filters like the one shown below (the white cylinder is the filter).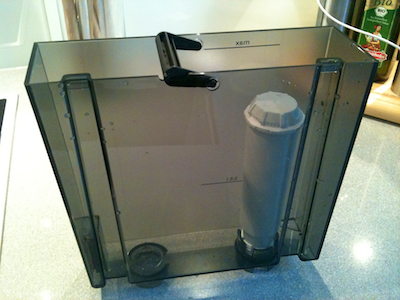 According to the manufacturer, the cartridge should be replaced about every two months. Consequently, the removal and installation of the cartridge is a fairly frequent process.
The filter is screwed into place, but getting a good grip on it is difficult, because the tank is very narrow, and the filter does not extend to the tank's top edge.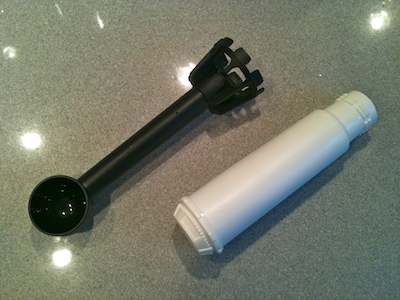 To simplify the installation procedure, the machine ships with an installation tool. A cage-like structure on the tool snaps onto the non-threaded end of the water filter. (The thing at the other end of the installation tool is a measuring scoop.)
http://uiobservatory.com/media/2011/FilterInstallationToolCloseup.png" alt="Close-up view of the tool's "cage" and the complementary connecting end on the water filter" border="1″ width="400″ height="300″ />
The connection is tight enough so it won't come lose when screwing the filter in or out, yet the tool can be separated from the filter without having to apply too much force.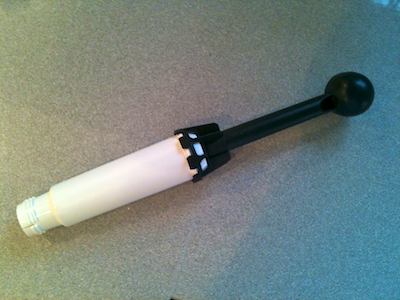 With the help of this tool, installing and uninstalling the filter becomes a breeze, but its sophistication goes beyond serving as just a grip extender.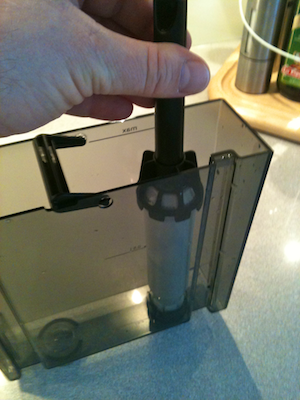 The cage structure houses a slip clutch: When you reach the maximum allowed torque while twisting the filter into place, the clutch will start slipping. This nifty feature effectively prevents you from accidentally over-tightening the filter thread and possibly breaking the tank.