The usual method for dispensing a pill from a blister pack is to force it through the metal foil on the pack's underside by pressing on the bulge containing the pill. Here is another design that, instead, requires you to peel off the backing foil.
Instructions are printed on the back of the box. If you miss these, the phrase "Hier Folie abziehen" ("Peel off foil here") and an arrow pointing out where to start peeling, is printed on each individual segment of the blister pack.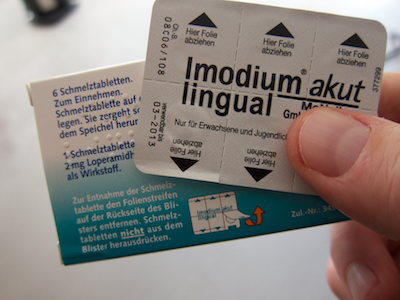 Additionally, the pack has an unusual design detail that guides the user: When you look at the pack's bulge side, you can see cut-outs along its edge. These make it easier to peel off the metal foil, and they also provide a visual clue that this "device" effectively affords being pulled apart.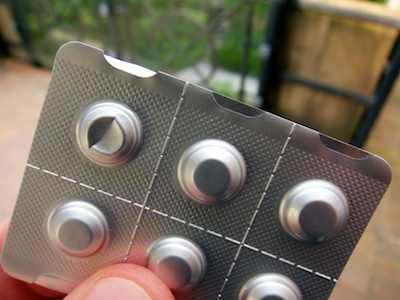 If, at first, you do try to push out a pill as you would normally do, you will quickly realize that this won't work since the foil is too strong. In that case, you will probably either turn the pack around to further investigate the cut-outs, thus discovering the explicit instructions on the back. Or you may intuitively try to peel off the foil via the cut-outs.
This combination of explicit instructions and affordances helps ensure that the user will understand how to properly "use" this blister pack even though this "use" differs from that of most other similar "devices".